Europe is still a mess, even mighty German saw Q4 growth go negative (Reuters), but European spreads continue to get better (Josh Brown).  Meanwhile stateside, 2013 Outlook:  Why The SPX Will Be Up For A 5th Year In A Row (Schaeffers).
The stimulus push continues in Japan (Reuters).
Chess:  Gold Miners Leading the Charge
China's economic improvement is becoming visible in global markets at Sober Look.
"(F)our factors combined to generate a sharp increase in world demand for  commodities: rapid growth in global GDP, increasing urbanization in developing  countries, a rise in population at a rate of 800 million people per decade, and  a significant decrease in poverty. With the exception of global population  growth, China has been the most dynamic country in all of these respects."  Shall this continue?  Project Syndicate
China's ravenous for iron ore, copper and oil at Mining.  Highflying Molycorp has tanked also at Mining.
China, ECB, Currencies, and Commodities by Ryan Puplava.
However:  " Short seller Jim Chanos sees big trouble brewing among leveraged natural-gas producers. Why he still views China as a bubble and is wary of Brazil's Petrobras and Vale, too."  Barron's
Missed the China Rally? Wait for February, Ned Davis says at Barron's.
Commodity currency Australian Dollar ready for a major kangaroo jump? by Peter Brandt.
"Copper and tin are likely to be the biggest near-term beneficiaries of improved apparent demand through the first half of 2013, with supply availability still limited, Macquarie said in a research note Friday."  Platts  China's 2013 refined copper consumption to rise 5.5% to 8.1 mil mt: Antaike at Platts.
Natural Resource Stocks To Reflate On China?  Michael Gayed  Look's like a possible fantastic low risk entry point: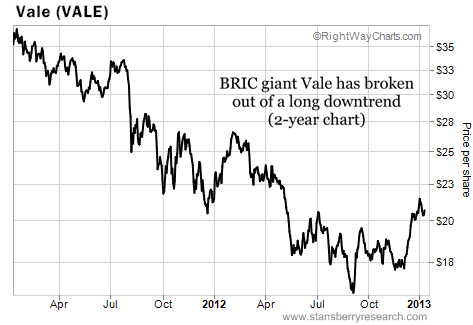 China's 2012 trade surplus surges 48% (CNA), thus "China's overseas investments neared $80 billion in 2012, according to the latest
tally by the Heritage Foundation, a conservative Washington D.C. think, and may well hit $100 billion a year in the coming years."  WSJ
We shall keep a close eye on China (Business Spectator).
Inflation adjusted stocks via J.C. Parets:
An MLP blog to bookmark for those interested in the space:  MLP Guy.