Conference Presentation: What is Driving Today's Investors?
 by
Barry Ritholtz
.
Commodities Prices are Falling. Really.  Barron's  (Google the title, the piece has interesting charts).  The 15 year CRB and 20 year CRB.
"…by 2030, at which point one in every eight people on Earth will reside in a Chinese city."  Financial Times
China Pollution Leading to End of Low Cost Manufacturing Advantage Over US:  "…the US has already entered a sweet spot for manufacturing…"  Value Plays
"China's stocks rose, sending the benchmark index into a bull market…" (Bloomberg).  S&P 500 At New All-Time Highs* by Bespoke.
From Power Tools to Carpets, Housing Recovery Signs Mount at WSJ.  The indirect benefits of a housing recovery…
Ignoring The Obvious by Eric Sprott.  Capitulation Everywhere by the bears says John Hussman.  The world according to Doug Casey at Mining.
Gold Miner Reversal says Castle Hill Capital.


Market Strategist Jeff Saut: Best Stock Ideas For Next 3-5 Years at Market Folly.
An excellent piece on why natural gas prices are not going anywhere meaningful anytime soon:  RBN Energy.
Did you see the refining complex rip on VLO's blowout results?  Today should be CHK's turn…
Is Saudi Arabia cutting output in answer to increased US production?  CME Group
China, the Saudi's and "Some numbers in the global crude oil supply and demand balance have shifted fairly dramatically in just one month's time, possibly putting an end to the big world inventory build."  CME Group
CHART: China is burning coal at an insane rate at Mining.  China coal imports may reach 500 million tons in three years says Phil Ren.
Peabody's 2012 results, US and world coal outlook and a write-down.  Gregor is working on a long form 'Coal 2.0' piece:
Using an old technique to store wind power:  Commodities Now.
Note this representation of insurance stocks for a week from now…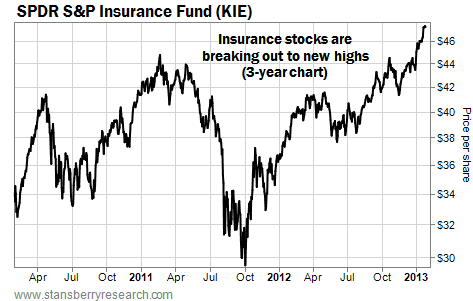 So today's post turned into a giant hodgepodge…