Welcome to the first full week of stock trading since mid-December.  And the S&P 500 stands at a 5 year high.
After a poor 2012, "Master Limited Partnerships came roaring back with 7% gains in the first week of the new year, leaving a dismal 2012 performance in the rear view mirror."  That is entire year's worth of yield.  Barron's
How big a deal is the surging U.S. O&G output?  "Legislators in Texas, the biggest energy producer among U.S. states, will begin deliberating its next two-year budget with a surplus that may near the $8.8 billion record set in 2007."  Bloomberg
Energy Stat: Yes, We're Still Bears on Oil for 2013; No, Gas Isn't Much
Better by Raymond James.  The rig count at Haynesville Play.
Regarding natural gas, Possible Bullish Scenarios are Diminishing Unless Weather Related Demand Materializes Soon by Kyle Cooper.
Brutal Cold Waves Could be Heading for the U.S. (Accuweather).
I'll remind readers the E&P's are woefully under-hedged for 2013, while Canadian supply/demand and storage is in more constructive shape than stateside (I can't find the links).
"The truth is that the oil and gas industry receives the same kinds of tax treatments that every other manufacturing or extractive industry receives in the federal tax code."  Forbes
Uranium Rebound Seen as Japan Considers Nuclear: Energy Markets at Bloomberg.
Does gold need through the first quarter to consolidate? (Louise Yamada)  Prior to the 'Fed minute sell-off' gold touched a new high in yen: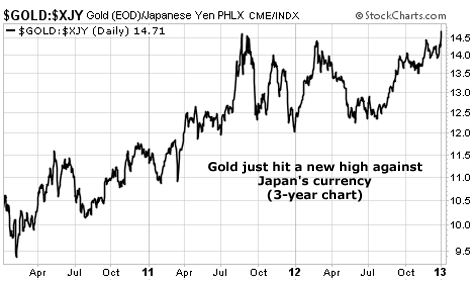 "Usually residential investment is a strong contributor to GDP growth and  employment in the early stages of a recovery, but not this time – and that  weakness was a key reason why the recovery was sluggish so far."  Bill McBride on why this looks to change.
"There is clearly an unmet demand for home ownership among young households" at Housing Wire.
Housing:  The Foundation of the Next Bull Market by Aaron Edelheit.
Should we let the protesters stay in the trees, or should someone show them this chart so they can go home in peace?  (Dallas Observer)