What looks good for 2013?
Rick Rule's macro commentary and constructive commodity outlook:  Sprott.
In spite of the Western world debt mess, ISA has been noting a relatively strong U.S. outlook.  The debt ends in pain, though perhaps not disaster (BI).  Horizontal drilling continues to have remarkable direct and indirect (plastics) economic benefits.  We've beat the housing drum and autos look good too (auto news).
Strength in China (Bloomberg) would help the world economies too.  China's factory activity hits 19-month high at Globe and Mail.
Copper might have the most bullish fundamentals of any base metal or bulk material.  Note charts of resource stocks BHP and VALE.
As the world's largest coal consumer, by a wide margin, a Chinese growth acceleration would benefit international thermal (Platts, Reuters) and coking coal prices.
The gold price just completed 12 consecutive positive years in a row.  And ISA thinks the fundamentals have never been better.  The Fed is printing $85 billion a month ($1 trillion a year) and monetizing the Federal budget deficit.  Japan has gone nuclear on monetary policy.
So yes, ISA likes metals…precious and base…for 2013.  Energy is a different story.
Oil looks to be range bound as intensity declines (Raymond James).  Oil could face a downside test in 2013 for a potential opportunistic trade; OPEC and economics will prevent a permanently lower oil price (CNN) imo.
Natural gas and US thermal coal appear to have reached a weather adjusted supply/demand equilibrium.  Unfortunately the best chance to eliminate the storage overhang…winter…doesn't have enough left to get the job done.  We'll look to revisit our favorite gasser UPL after mid-year.
Be wary of interest rate sensitive securities.  "The (10-year) yield touched a record low 1.379 percent on July 25 at the height of concern that Europe's leaders were struggling to stem the region's sovereign-debt crisis.  The 10-year yield averaged 1.79 percent this year. The previous low was 1.95 percent in 1941…" (Bloomberg).  "Certificates of Confiscation" at the NY Times.  The highest yielding dividend stocks actually declined in 2012 (Bespoke).
China's stock market finished 2012 by ripping higher:
Amazing: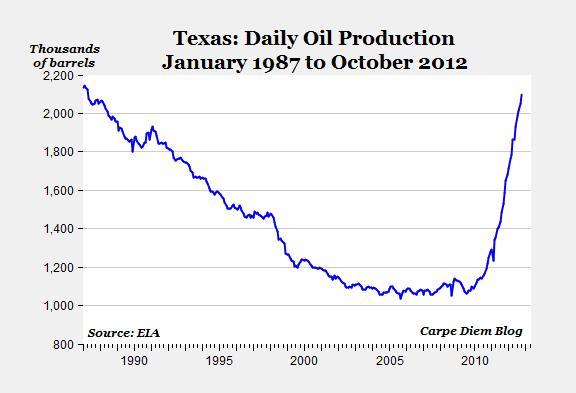 Looking way ahead:  Global Trends 2030 by the NIC.