The energy piece of the economic puzzle has morphed over the last several years.  From a macro economic perspective, energy does not appear to be a headwind.  Energy is providing a sustainable economic competitive advantage in the U.S.
Perhaps the energy secular bull market has past, and investors instead will have only cyclical conditions with which to contend going forward.  Let 24 diverse links help tell the story:
Saudi oil Minister Al-Naimi:  "everybody now is happy with where the prices are. Nobody is complaining about high prices or low prices."  (Arab News)  Sounds like relatively stable oil prices near today's price deck could be the norm…
E&P capex in 2013 is set to be flat in North America, but rise 7% globally in a sustained rise dependent upon today's oil price.  AOL Energy 
"The UK's oil production has been falling steadily from a peak of close to 2.82 million b/d in 1999. Last year, output fell 17% to an average of 1.07 million b/d."  Platts
Did Daniel Yergin steal the term "undulating plateau" from ISA?  Combined with efficiency gains, shale gas, coal and renewables a growing world is not short energy.  Tad Patzek
Positive stateside: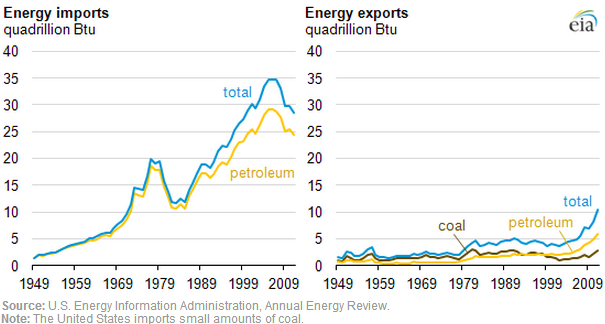 The Utica:  "The play is a home run.  It's just not a black oil play. The results [Gulfport] is putting up are above and beyond almost anything we've seen from the prolific shale plays."  SNL
Faster, deeper, more power in N. American rig market at Reuters.  Then consider the move to pad drilling.
Canada has it's own shale gas:  Financial Post.
Natural Gas Demand:  New Domestic Uses and LNG Exports at the EIA.
Turning natural gas to diesel is the holy grail.  Sasol:  A Big, and Risky, Energy Bet at the NY Times.
On Tuesday the IEA released an important coal report.  Some takeaways from Reuters:
"Coal will nearly overtake oil as the dominant energy source by 2017…"
"The world will burn around 1.2 billion more tonnes of coal per year by 2017 than it does today, which equals the current coal consumption of Russia and the United States combined…"
"China to use more coal than rest of the world combined"
"U.S. demand for coal is forecast to fall by 3.7 percent a year by 2017 due mainly to greater efficiency in industry…"
Medium-Term Coal Market Report 2012 Factsheet at the IEA.
Energy Agency Sees Global Coal Boom Unabated, Europe's Binge Temporary at NY Times.
While in the U.S Old King Coal's Uncertain Future at WSJ…
Worldwide "A Desperate Need for Electricity in China and Other Developing Countries Is Fueling Global Coal Use" and "The divide between the rich countries and everyone else is fundamentally about electricity" the Daily Beast.
Pragmatically speaking, wind and solar just won't scale enough to get home:  Robert Bryce.
Peabody, Cheap For a Reason, Could be Just Plain Cheap in a Coal Turnaround at Ycharts.  New members might not realize CLD would be my favorite coal play…
Uranium:  The Facts About One of the Biggest Energy Trades of the Decade (Daily Wealth) and This Could Be the Start of Another Triple-Digit Run also at Daily Wealth.  Uranium picks:  AMP 2012.
Members can expect an industrialization and commodity post Friday and some interesting stuff Monday.  Do not expect anything for Saturday and Christmas Day.  In laws, toddlers, the birth of Christ and such…