"On the other hand, assume that the investor strives to avoid paying a high premium for future prospects by choosing companies about which he is personally optimistic, although they are not favorites of the stock market. No doubt this is the type of judgment that, if sound, will prove most remunerative. But, by the very nature of the case, it must represent the activity of strong-minded and daring individuals rather than investment in accordance with accepted rules and standards."  Graham and Dodd
The charts of three decade of the CRB and CRB against the S&P 500 are interesting:  Black Swan.
No holiday cheer for energy stocks at Marketwatch.
Oil production is on a plateau (Byron King).  U.S. gasoline consumption per capita is on a long collapse (Doug Short).  Chinese oil demand set a new record in November (Platts).
"With help from foreign oil companies, Iraq's daily production surged 650,000 barrels this year to 3.35 million, the biggest annual gain in 14 years, according to data compiled by Bloomberg. The country plans to boost output to 3.7 million barrels a day in 2013 and at some point in the year match its 1979 record of 3.8 million."  Business Week
"Gasoline at U.S. service stations fell to the lowest level in a year as refining and retail margins sank…"  Fuel Fix
Americas' Growing Oil Production – Glut May Drive Prices to $50 at AMP 2012.  Well, not quite and not for long.  Economics and OPEC would provide support.
A Tale of Two Forecasts by Gregor.
A nice Bakken piece at the WSJ (google the title).  Texas Eagle Ford Shale map and oil production chart by Mark Perry.
All Roads Lead to Natural Gas-Fueled Cars and Trucks at Forbes.
Why It's The End Of The Line For Wind Power at Forbes.  Even worse for wind is the intermediacy: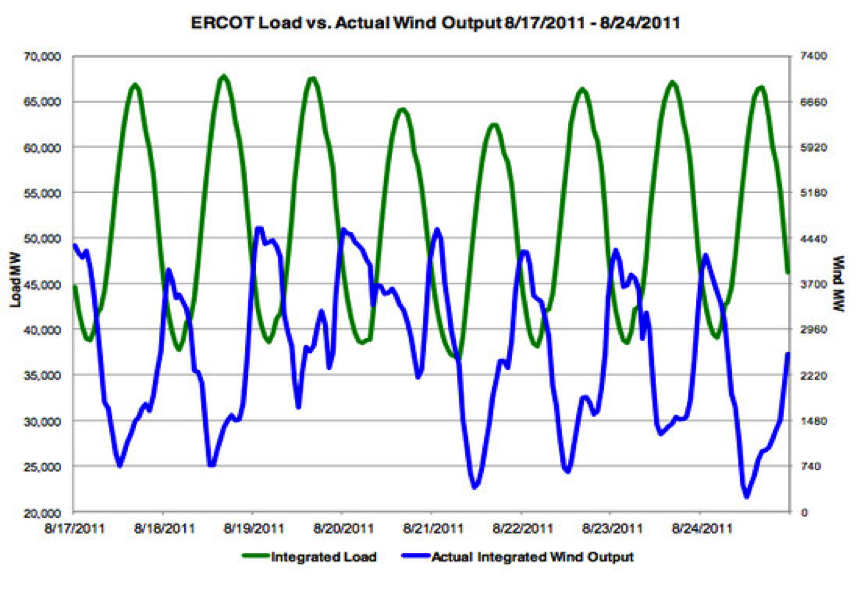 Electric cars seen appealing to only 3% of U.S. car market at Marketwatch.
"My conclusion is that, by most measures, the expansion has continued through November. Nevertheless it is clear that, no matter how you measure, the economy slowed markedly by March and has not picked up momentum since."  Bonddad
"The key downside risk for the US economy in 2013 is too much austerity, too quickly.  However, barring a policy mistake (I expect a fiscal agreement), it seems unlikely there will be a sharp decline in private  investment in 2013.  This is because residential investment is  already near record lows as a percent of GDP and will probably increase further in 2013, and that suggests the US will avoid a new recession in 2013."  Bill McBride
The apolitical version of the fiscal cliff as told by Jeffrey Gundlach.