In The Outlook for Energy:  A View to 2040.  ExxonMobil says to think efficency.
Canadian oil production is robust and at all-time highs.  Financial Post
2 Trends Making Investors Money in the Canadian Energy Patch by the promotional Keith Schaefer.
The Brent:WTI spread is shrinking at Bespoke.  Funds Sense WTI tipping Point as Cushing Models Break says Robert Campbell.  This would be good for producers and consumers at the expense of mid-continent refiners.
Why the White House Loves Natural Gas at EIN News.
EV Energy Partners is an O&G MLP which fell off my radar with the Utica hype.  Perhaps it's time to take a look again.
Think Ethanol is Environmentally Friendly? Think Again. The Independent
Wonk alert:  The Department of Energy's Strategy for Exporting Liquefied Natural Gas at Brookings.
Horizontal drilling will expand outside of North America, but will take longer than expected to be meaningful.  Russia, Saudi Arabia hope to emulate U.S. shale boom at the Financial Post.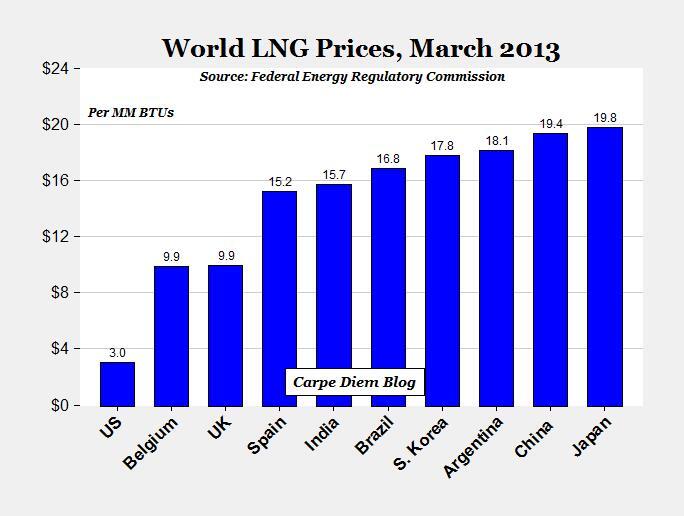 Hans, about that sell-off:  Conviction sell: Rio downgrade gives entire iron ore sector a bloody nose at Mining.
Franco-Nevada reported 2012 results, and shares were hit on disappointing guidance and an impairment charge.  Yesterday FNV gave its annual investor day presentation (booklet).
"According to an MSN survey, 60% of Americans will fill out a March Madness bracket this year, compared to the 57.5% of eligible voters that voted in the 2012 presidential election."  Pando Daily.  The article suggests letting a computer algorithm make your picks.  True story:  Twenty years ago as a teen I crudely mapped out the probability of certain seeds advancing so far.  My suggestion this year:  Go with the Big 10.  But don't get to excited, the whole thing is almost random.  Especially this year.