Uranium is a difficult place to invest.  I have precious little insight  But here goes:
Following the end of the cold war, uranium was in massive oversupply.  The long Russian de-stocking program is set to end next year.  Combined with growth driven by China doubling down on nuclear power the long term fundamentals glow.  The cost of nuclear power generation is driven by capital costs; the variable input of uranium has little effect.  Uranium demand is quite inelastic to price.
While the world searches for less carbon output, Three Mile Island type fears were re-ignited in the 2011 Fukushima disaster.
Cameco (CCJ) is the senior industry participant and I have always felt the shares to be overpriced.  Even near seven year lows today, the price to sales ratio is over 3X.  Yet perhaps a premium valuation is warranted given the dearth of investable opportunities.  Uranium Participation Corporation (U.to) is the ETF equivalent for uranium.  Run, don't walk, but run from the uranium junior space.
Investing in Uranium Stocks: Time to Buy the Industry's Biggest Player (Cameco) in a promotional piece at Money Morning.
Collapse of uranium market led to BHP and Cameco halting uranium mining projects at Anti Nuclear.
Time will restore uranium's glow at Globe and Mail.
China's 2015 nuclear power capacity to account for 10pc of world's total at SCMP.
Re-post:  China is expected "to leap to the number two position (in nuclear power generation), before overtaking the United States in the 2020s, producing 100 gigawatts of power…Their (China) vision is to produce 400 gigawatts of nuclear power by 2050. That's been publicly stated by Chinese officials…That's more than the whole world has got today."  Economic Times
Quarterly uranium insights from KPMG.
Some resources:
How to Play Uranium's Coming Supply Shortage (ETF News) contrasted with "…the next 12 months are likely to be a continuation of the moribund market that has dogged uranium for the past 18 months."  (Street Insider)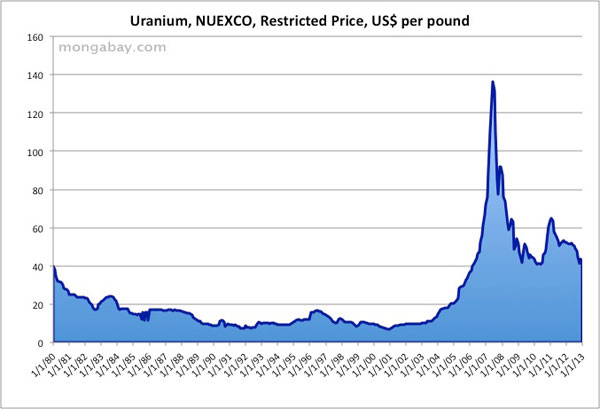 I hope this helps!