Will the Cyprus surprise be akin the Bear Stearns collapse five years ago? 
Good morning.  All markets are down this morning except natural gas and gold.  The natty price functions in it's own insulated world apart from the madness of risk on and risk off.  And gold is higher.  That's it.  The Cyprus news is not even on the front page of Yahoo Finance but it has the gold bug community positively giddy.  Gold manipulation even made The Guardian.  With the DJIA making four all-time highs last week, forgetting that much of the Western world financial position is a satirical joke is easy.
Always remember, gold is the real McCoy because it is no one else's liability.  The white precious metals are lower this morning.  Why There's a Sea Change in Platinum and Palladium Markets at the CME Group.
Gold stock valuations are at a new lows.  They are well capitalized too, as Goldcorp borrowed 5 and 10 year money at 2.125 and 3.70 percent.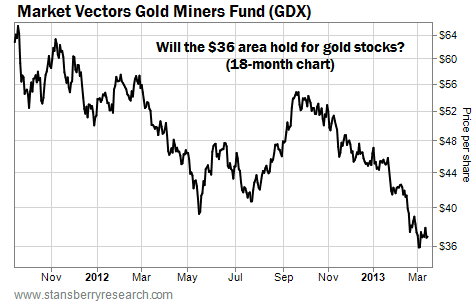 As for natural gas, production has held up in the face of the 
rig count
collapse for a number of reasons:
Associated gas from booming oil production
Backlog of drilled uncompleted wells being worked off
Natural lag of well count to appear in production
U.S. Natural Gas Storage Charts by BMO.  Canadian storage and S/D seems to have turned.  Kyle Cooper's weekly commentary should be posted soon.
"Halliburton has estimated that its expected rig count in North America will increase by about 100 rigs, and Baker Hughes believes that it will add about 100 to 150 active rigs in the coming months, according to a Barclays analyst note issued Friday."  Fuel Fix
Long term long natural gas as transportation fuel and exports will be meaningful.
Raymond James reminds us of the potential in the Gulf of Mexico.