JC Parets asks Are We Still In A Secular Bear Market?
After a slow start, a good read on currency debasement at Mauldin Economics.
A ridiculous amount of information from Peter Degraaf.
Some Incredible Gold Charts at Kitco.  Don't Fear a Normal Gold Correction by Frank Holmes.  Gold stocks over gold?  Adam Brochert
What is the Russell 2000 Telling Us?  All Star Charts
China is suspending operations at smaller coal mines (Bloomberg).  Coal demand at Alpha VN:
World Economies Are Recovering – PMI Stats at AMP.  Can Chinese growth rates be sustained or is further slowing inevitable?  WSJ China
But Einhorn says short iron ore and picks losers (Market Folly).
Completely off topic:  "…remarkable 19th century sepia-tinted pictures show the American West as you have never seen it before – as it was charted for the first time."  Daily Mail
Controversial:  "Another troubling aspect of our results is that investment in human capital [measured via secondary education] seems to have nothing to do with changes in growth rates over time."  Econ Log
A new housing metric…price per square foot: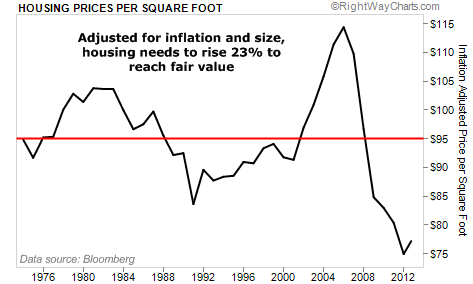 This afternoon's links will keep you busy; enjoy the weekend!