Today's stock rally includes strong precious metals with base metals being flat.  Jim O'Neal coined the term BRIC and now says "The big commodity play on China is finished."  (Bloomberg video).  The BRIC nations stock markets are minor disasters (Kimble Charting).  Six indicators pointing to China's deteriorating conditions at Sober Look.  Decision time has arrived for copper (chart).
Recession talk exists (Ritholtz) and OECD predicts weak growth in Canada, G7 partners for rest of year (Globe and Mail).  Yet the U.S. economy has been a relative winner among the Western world.
The Independent Stock Analysis thesis continues to be precious metals over materials and base metals.  Western world money printing (Reuters) is primarily gold and silver positive, with oil another beneficiary.  Base metal and material prices need China growth to re-accelerate on meaningful fiscal stimulus, something unlikely in the near term (Marketwatch).
Doug Kass startled me saying "It now appears that China's third-quarter real GDP growth might be 6.5% or lower." (The Street).  Become accustomed to headlines like this: Low demand from China dampening Asian coking coal outlook in short term: UBS at Platts.
Meanwhile, Gold is Quietly Breaking Out:  All Star Charts.  Gold Glitters in September at Bespoke.
The $HUI and GDX are approaching their 200 day moving averages.  Perhaps some digestion occurs next week on the charts.  ISA has been covering the precious metals ad nauseum on our gold page.
The royalty stocks are fundamentally superior.  With FNV and RGLD having stretched valuations my current favorite is Silver Wheaton.  SLW presents this afternoon.  An alternative view on silver:  chart.  Silver breakout from Daily Wealth: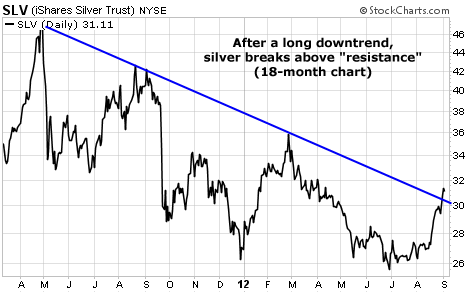 Is this fundamental analysis something you enjoy?  Visit the Independent Stock Analysis home page.  Better yet, become a member today!  For $100 a year you can follow along JJ Butler's market thoughts.  ISA continually notes developments in the oil and energy markets and has been examining the depressed coal market fundamentals while patiently waiting for opportunity.  Put an Independent Stock Analysis membership in your investment toolkit.