Friday afternoon's post took a great deal of time, so I skipped the Saturday post.  Now this morning's post is ginormous!   
As a leading indicator, Gold (priced in Swiss Francs) has begun the next leg of its bull trend by Peter Brandt.
The precious metal complex has been strong since the election, with gold funds adding 10.5 tonnes in the following three days (Mining).  Gold bumping against the 50 day (Bespoke).  SLW's cup & handle.  Yes, the Gold Miners Still Exist (All-Star Charts).  Real Gold Prices Still Far From All-time Highs (All-Star Charts).
Does $100 silver sound outrageous?  A tempered and measured look:  Gold Silver Worlds.  David Morgan: The Silver Supply Squeeze In 1980 Could Look Like A Warm-up also at GSW.
Chart of the Week: Gold and an Ever-Growing Balance Sheet by Frank Holmes.
Student loan debt, of course, is only the latest additional bullish precious metal fundamental (Sober Look).  Gold lagging previous QE cycles but DB remains bullish at Sober Look.
Big Inflation Coming by Adam Hamilton.
Energy and China:
Oil leaves ISA uninspired.  NGL's are a disaster (Globe and Mail).  Crude play:  Canadian railroads!  CN Rail, CP Rail Surging With Crude Oil Moving by Trains at Bloomberg.
"Although (Obama) is no fossil fuel friend, natural gas may get a boost in the next four years, despite Democrats' perception as strong environmentalists," Global Hunter Securities analysts said in a research note…An Energy Department study of the economic effects of expanded liquefied natural gas exports was initially expected to conclude this spring but was delayed and is now likely to be issued before the end of the year."  Fuel Fix
U.S. Natural Gas Exports Poised For Takeoff at Forbes.
Line of the day:  "After Sandy, No One Lined Up for Wind Turbines."  Mark Perry
Oil rigs up, natural gas rigs down.  Again.  Haynesville Play
"Will the U.S. Really Become a Crude Exporter?"  Raymond James
China's October Crude-Oil Imports up 13.9% on Year at the WSJ.
Many companies dependent upon the industrialization of China are openly looking for, hoping for and expecting an immediate China stimulus program.  Not Rio Tinto.  Mining Weekly
Material investors know copper is the most supply constrained of the base metals and bulk commodities.  Global Copper Production Under Stress at Resource Investor.
The four BRIC nations "generated close to half of the world's GDP growth in the past decade" with Chinese GDP expect to dwarf the U.S. by 2050 (Sober Look).  Further, China, India GDPs to Exceed Entire OECD by 2060 at CNBC.  ISA question:  Does the planet have the natural resources for the project development to occur?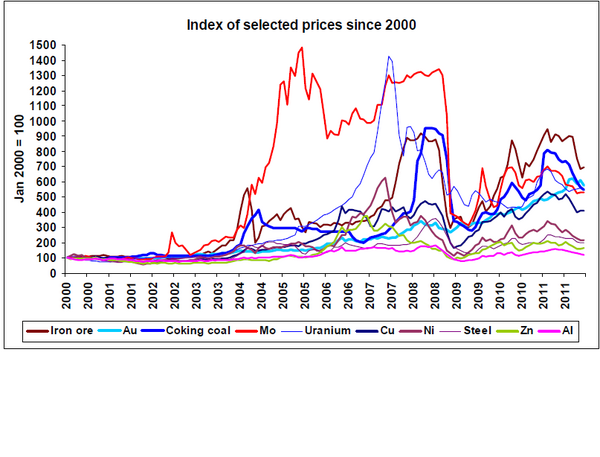 U.S. centric:
Quite positive stateside:  Vital Signs Chart: Exports Flourishing at WSJ.
Positive news for housing in a vacancy rate chart:  Sober Look.
Without getting political, from GaveKal via John Mauldin: