"The yield on 10-year U.S. Treasury securities averaged 1.8% during 2012, the lowest levels in 60 years. But that episode may now be behind us." (Econbrowser).  Pimco's Bill Gross Says the Bond Rally Is Over (Business Week).
The fundamentals of gold are remarkable.  Consider:  "Moody's Investors Service, dissatisfied with the way states measure what they owe their retirees, released its own numbers on Thursday, showing that the 50 states have, in aggregate, just 48 cents for every dollar in pensions they have promised." (Dealbook).  Additionally, the world's third largest currency is in the Mother of All Painted-In Corners (Mauldin).
Meanwhile in the investment world, gold can not be owned.  Consider:  Gold is not yet as oversold as it was during the bottom in '76 at The Short Side of Long.
"It's been an incredible run… but gold's 12-year streak of price gains will end in 2013."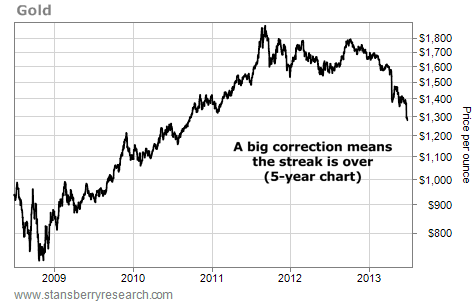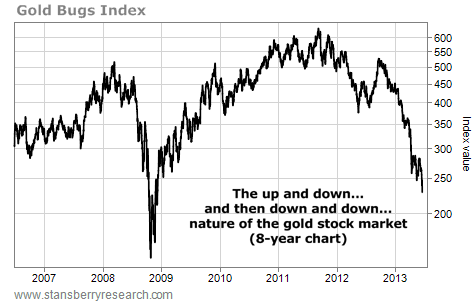 U.S. Oil Boom Affecting Global Prices at the WSJ.
Is Oil is the Next Major Commodity to Crash?  Econmatter
Coal shares tumble as investors see no sign of turnaround at Reuters.  What Happens When You Buy Assets Down 80%? (Mebane Faber), though I'm not so sure asset prices always come back.
"There was no discussion of exports in Bernanke's assessment of the economy during his press conference last Wednesday. They've stopped growing because global economic growth has been depressed by Europe's recession."  Ed Yardeni
Here We Go Again in Europe (Economic Policy Journal).  Also, "It's likely that the days of the super-powered Chinese economy are over" says Michael Pettis.
In the U.S., "four powerful forces coming together over the next year are poised to support stronger growth and job creation."  Stronger U.S. Growth Ahead at Economix.
On the one hand, "Since May 1, rising mortgage rates have reduced the purchasing power of U.S. home buyers by 18%" (Dollar Collapse), while at the same time the shortage of supply we've long discussed is manifesting:
"I would add that it does appear based on the last month of data that rail
traffic seems to be picking up.  This gives further evidence that we might see GDP increase at higher rates as we go through the second half of 2012."  Value Plays  The Private Economy is Doing Just Fine says Davidson.
Yet U.S. stock valuations are uninspiring:
Enjoy this post?  Feel free to sign up for email or Feedburner updates.