Paul, I'm not sure what the future holds.  The U.S. relative strength against Europe and China continues on the back of oil (Mark Perry) and natural gas production.  "Home construction is booming in the United States, but it remains severely depressed." (Ritholtz)  Yes, housing has legs:
Weakness in China has the commodity trade looking bad and feeling worse: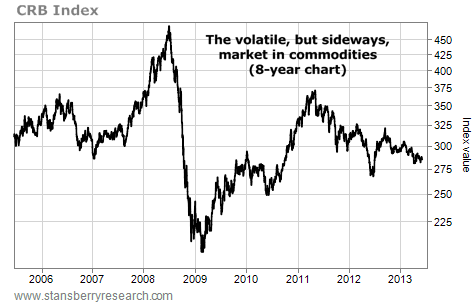 After all, The Oil and Gold Booms Are Over (Bloomberg).  Grim BRICs news pushes copper to 5-week lows (Mining).  Oversupply pushes thermal coal price to 2009 levels (Mining).
Yet, Commodities poised for revival says Cam Hui.  A Case for Owning Commodities When No One Else Is by Frank Holmes.
Meanwhile, the S&P 500 at new highs with modest valuation has the stock market uninteresting.  (Vitality katsenelson)
Avoiding interest rate risk seems prudent:
Additionally, being a gloom and doomer is so passe.  (Albert Edwards)
Perhaps the best opportunity is the shorting the Yen, using the break this week to attempt to initiate a position.  It's The Mother of All Painted-In Corners (John Mauldin) with horrible demographics.